Ticks are common parasites known to infect people, pets and spread disease. Over 850 tick species exist worldwide, although fewer than a dozen species are of risk to pets in the U.S. But here in Las Vegas, pet owners often dismiss the existence of ticks with the likes of Bigfoot or the Loch Ness Monster. Think ticks are only a problem for pets that travel or visit the mountains? Think again.
Here's a photo of a typical tick, born and bred in Las Vegas and recently extracted from one of my Shih Tzu patients named Kane. Kane never leaves the state, doesn't hike in the mountains, and enjoys the comforts of a house-dog lifestyle. A tick was discovered on Kane after a day of supervising his owner's yard work and shrub trimming.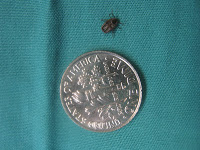 The Tick Tale
Ticks are parasites known to infect mammals, reptiles and birds and feed on their host's blood. Although of tiny size, ticks ingest 200 to 600 times their weight in a blood meal.

Ticks are attracted to a host's movement, body warmth or exhaled carbon dioxide and then latch on. Through this feeding behavior they can transmit diseases to pets such as Lyme disease, Rocky Mountain spotted fever, Ehrlichia, Babesia and Tularemia. Disease transmission takes some time and may occur after 36 to 48 hours of feeding behavior.

Some ticks can live months or up to a year off its host without a feeding, so year-round prevention is important for pets at risk for continued exposure.


Battling Ticks
There are many topical tick control products available for pets. Speak with your veterinarian for an product that is effective and safe with your pet's individual health in mind. Cats are sensitive to some ingredients, may develop toxicity, and should never be treated with a product labeled only for dogs. Additionally, pet owners using multiple products on their pet should first consult with their veterinarian to ensure safe use of combined products.
In addition to topical tick control, environmental treatment with foggers, sprays or pest control service should be considered for heavy infestations. Limit tick habitat zones by maintaining landscaping, avoiding overgrown grass and keeping shrubs and plants trimmed.
Pet Screening
Perform daily tick checks during tick season. Examine your pet for ticks in areas that the parasites hang out- around the head, behind ears, armpits and between toes.
When removing a tick, avoid handling it directly. Wear gloves or handle with Kleenex since ticks can pass infections to people as well. Grasp the tick with tweezers close to the skin. Extract the tick by pulling straight out of skin. Don't squeeze, twist or leave any legs behind. Disinfect the area and dispose of ticks in rubbing alcohol.
Maybe Kane's story will be an eye-opener for city dwelling pet owners. Pet parasites like fleas, ticks and mosquitoes still lurk in that urban jungle.
Visit the Dogs & Ticks website for more information ticks, diseases and prevention. http://www.dogsandticks.com/