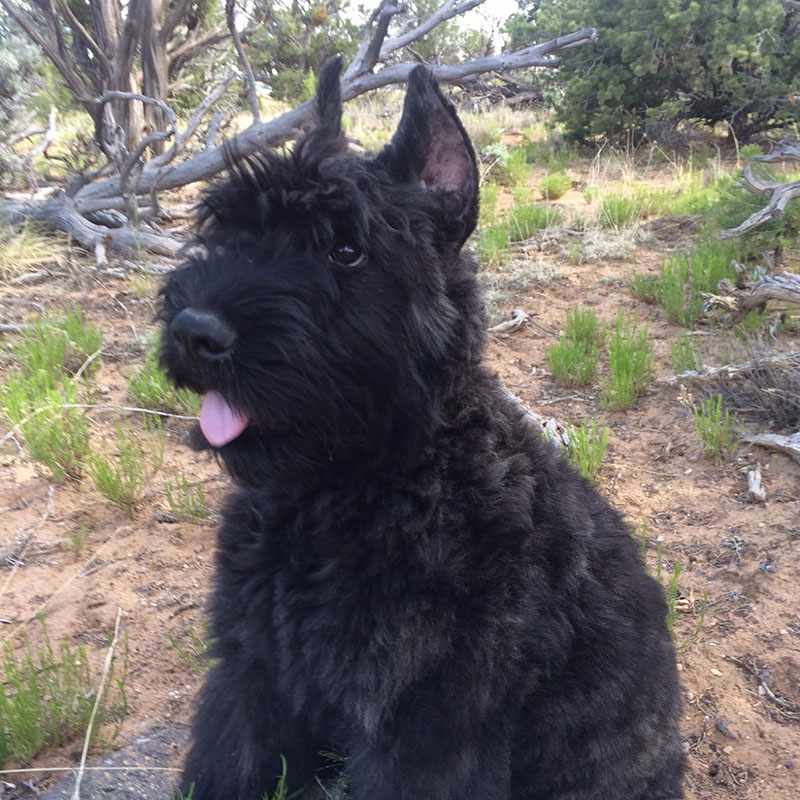 Tuesday, May 27, 2014
So you just got a new puppy and you have all your training tools at the ready- the collar, leash, and dog crate. But beyond that, do you have the one thing that can make your training tasks easier all around? Tap into your puppy's own sense of smell using canine pheromones, and ease your new pup's training and transition into the home.
Pheromones are scent signals emitted by all animal species, including humans. Various pheromones work under the radar to influence the perceptions and behaviors of others within a species.
Shortly after whelping, a pheromone is emitted from the bitch's sebaceous (oil) glands located between the mammary glands. The pheromone, dubbed the canine appeasing pheromone, reassures the puppies, calms them and facilitates nursing. The bitch stops emitting this pheromone as the pups mature, but all dogs retain the ability to "read" this pheromone. Not only do older dogs recognize this pheromone, but it continues to have a natural calming effect on canines of all ages.
In veterinary behavior cases, the dog appeasing pheromone is used for dogs with noise phobias, car travel anxiety, separation anxiety, and other fearful situations. Various forms are available including pheromone collars, plug in diffusers and sprays. The canine appeasing pheromone doesn't sedate the dog; rather it decreases fear and excitability.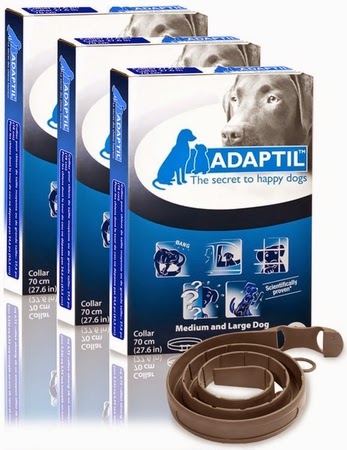 The dog appeasing pheromone is also helpful for newly adopted puppies. Those first few days to weeks in a new home are full of changes for the pup faced with novel environments far from the comfort of mother and siblings. The dog appeasing pheromone has been shown to ease the transition of the pup into new home and improve sociability and training during a pup's critical socialization period.
Pheromone Research
For skeptics that need to see the proof in the studies…veterinary behavior studies have examined the positive influence of the dog appeasing pheromone. When comparing treatment responses for dogs with separation anxiety, the use of the dog appeasing pheromone equaled the benefit of the anti-anxiety medication, amitriptyline.
One study looked at 66 puppies as they settled into new homes after adoption. Approximately half of the puppies wore a pheromone collar and half wore a placebo. The study found that puppies wearing a pheromone collar displayed significantly fewer nuisance behaviors like vocalizations or scratching within 3 days of adoption. Pups wearing the pheromone collar woke their owner's less during the night and displayed fewer signs of distress and vocalizations throughout the course of the study.
The researchers concluded that pheromone collars helped both the pup and family. Pups were less stressed and adapted easier. By decreasing the pup's stress and fearful behaviors, the pet owners found a more enjoyable bonding experience with the new pup and faced less frustration through the training process.
In another study, puppies 8 to 15 weeks were enrolled in an eight-week long puppy socialization and training class. Half wore a pheromone collar and the other half wore a placebo collar. The pups wearing the collar were calmer in the face of novel experiences and displayed less fear, anxiety, and aggression.  In the end, the pups with pheromone collar not only were less nervous, but had fewer behavioral problems and learned better.  And a long-term effect on sociability was recognized in dogs up to one year after the class and study was completed.
Pheromones and My Pup
As the new owner of a nine-week old Bouvier puppy named Nikki, I used both the pheromone collar and diffuser upon welcoming my new pup home. One day before bringing Nikki home, I placed a pheromone diffuser close to the puppy crate, where it would have maximum benefit during her first nights in the kennel away from mother and siblings. Immediately upon leaving the breeder's home, Nikki was fitted with a pheromone collar to serve as a source of reassuring pheromones that went everywhere she did. The pheromone collar has become a tool in Nikki's socialization – it's on her when she meets new people or animals, when she explores new environments, and during puppy kindergarten class.
Did pheromones help in my pup's transition and training? The four hour drive home from the breeders was a dream- no crying or whining the entire trip. Now three weeks later from acquiring my pup, and Nikki never soiled in her kennel during the day or night. I'll admit I had my share of interrupted sleep in the first two weeks, but most of Nikki's night time wakes were for genuine elimination needs. Overall her transition into the home was smooth and lacked the wailing, inconsolable cries of a stressed pup.
The canine appeasing pheromone isn't a magic bullet though. Nothing matches a quality pup obtained from a reputable breeder who focuses on health, genetics, and early socialization. Likewise pheromones do not replace the hard work and consistent training efforts that any new pet owner must provide. However, by adding the the canine appeasing pheromone to your new puppy training, you can help your pup become the best he or she possibly can.
For more information on the DAP products, visit the CEVA's website:
http://www.ceva.us/us/Products/Product-List/Adaptil-Formerly-D.A.P-R 
References:
"Effects of dog-appeasing pheromones on anxiety and fear in puppies during training and on long-term socialization", Sagi Denenberg DVM and Gary M. Landsberg, DVM, DACVB, JAVMA Vol 233, No 12, December 15, 2008.
"Efficacy of Dog Appeasing Pheromone in Reducing Stress Related Behaviors of Newly Adopted Puppies Coming From a Pet-Shop", E. Gaultier, L. Bonnafous, D. Vienet-Legue, et al, Pherosynthese Research Center, Saint-Saturnin-les-Apt, France.