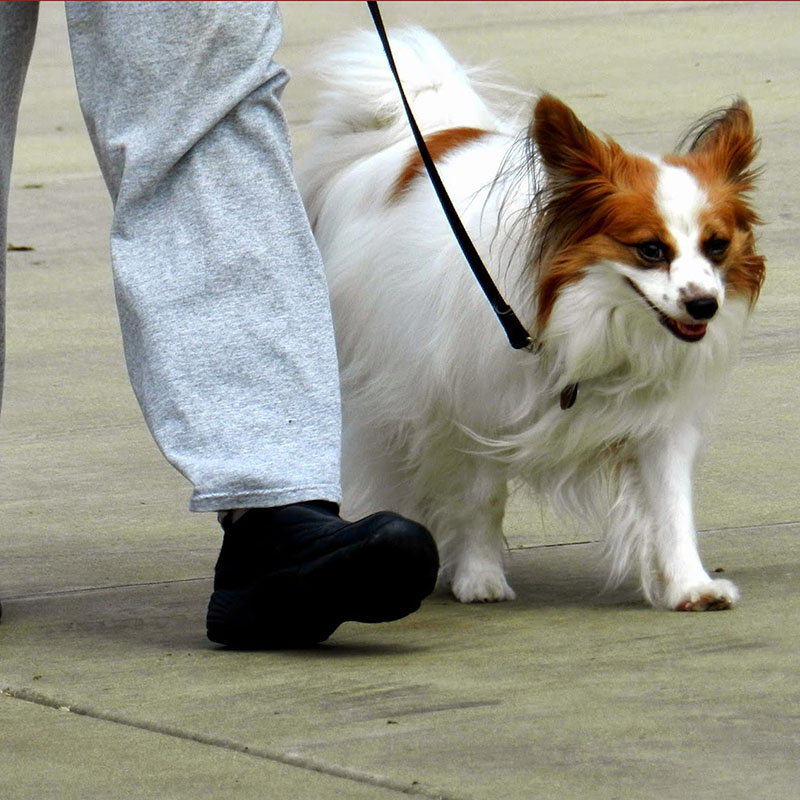 Thursday, August 28, 2014
The other day I was walking my dog in a community area and encountered a lady with two Shih Tzu's. As we approached, her dogs rallied with barking and tugging on their leashes. I asked if her dogs were friendly, so as to decide if we could approach. The lady scowled, embraced her still barking dogs and grumbled, "Do they look like they're friendly?"
Realizing this dog owner was more unsociable than her dogs, I decided to vamoose, but not before I envisioned this blog topic- how pet owners mold unsocial dog behavior.
Unwanted doggie behavior such as lunging and barking on the leash become established when the dog owner hasn't made it clear what the appropriate behavior is, fails to correct and redirect to a more suitable behavior, or simply reinforces the undesirable behavior through actions or words. Face it- there aren't bad dogs, just poorly trained ones.
Avoid making these top 5 training mistakes
1. Secluding your dog in the back yard
Keeping your dog in lock down almost guarantees problem behaviors will develop such as biting, inter-dog aggression and phobias to anything from noises to car travel. Isolated dogs lack the experience and confidence when faced with novel situations while socialized dogs adapt easily.
I see it all the time- the dog owner prides herself in keeping her dog safe. "I didn't want Fido to catch any diseases as a pup, so I didn't let him out of our backyard till he was a year old." The overwhelming fear of infectious diseases like parvovirus causes some well-meaning owners to confine their new dog or puppy to the limits of house and yard. Even more extreme is never allowing a puppy to step foot outside until after their last puppy vaccinations! Puppies are most adaptable to new experiences between 6 and 16 weeks- this is the time to expose them to unfamiliar places, people and animals.
That doesn't mean you should take your eight week old puppy to dog parks, but rather to use good sense selecting low dog traffic areas and visiting with family and friends outside of the home that have properly vaccinated pets.
2. Skipping obedience training
Going to school is a must for any new dog to a home, whether a puppy or adult. No two dogs are the same, and each learns differently. Formal obedience training is a useful tool to gently reaffirm who's in charge and sets the rules in the house. Statistics show that dogs that go through formal obedience training are less apt to develop behavior problems and be relinquished to shelters.
3. Reinforcing fear at the veterinary office
In the exam room I cringe when I see a dog owner comforting a nervous, fearful or aggressive pet. That "good boy" and pat on the head reinforces your dog's behavior, making it more likely that on the next hospital visits he'll behave the same, or worse. Some problem behaviors escalate making it difficult for the veterinary staff to examine or treat the animal. This may mean additional costs for sedation or anesthesia for routine medical needs.
It's natural for a pet owner to want to reassure a pet when he is frightened and it can be difficult to hold back the urge to soothe him. However, the best strategy is to ignore those fearful behaviors in the vet office. Don't be tempted to kiss, snuggle or hold Fido on your lap when he is misbehaving. Rather, place the dog on the floor, refocus your dog's attention to you, and cue him to "sit" or "lie down".
4. Not using food as a reward
Food shouldn't just be for the taking. Don't leave food out for your dog to graze whenever he wants and don't give treats just for the sake of giving a treat. Present food and treats as a reward for good behavior such as sitting quietly, going to a pillow, or performing a trick or obedience work. This places you at the top of the household hierarchy. You become the provider of great edibles in the house, and your dog will be motivated to listen to your requests in other situations.
We all love to spoil our dogs and give treats at times. But be sure to give treats for a reason, or you will have a spoiled doggie brat on your hands.
5. Not exercising your pet enough
Inadequate exercise can result in obesity and boredom, and may lead to problem behaviors like separation anxiety, destructive chewing and excessive barking. Dogs should get 30 to 60 minutes of sustained physical activity each day for optimum mental and physical benefit. And no- letting Buffy run around the backyard during the day is not adequate exercise.
Not all breeds are cut out for all exercise- a Labrador may enjoy retrieving games or swimming, a Jack Russell terrier may thrive with jogging or Frisbee, while a Basset hound will be satisfied with a leash walk.
Your dog can't be a well-adjusted, socialized canine citizen without you, as the pet owner, taking an active role in training. Put the time in, and you'll be thanked many times over with an outgoing, friendly canine pal that can accompany you on life's adventures.