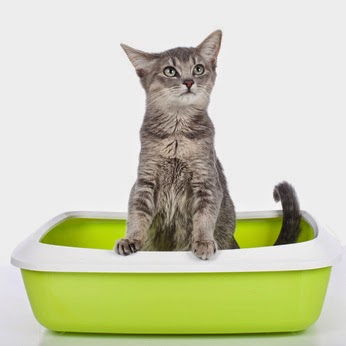 Sunday, October 5, 2014
One sniff upon entering your home and you recognize the unmistakable odor of cat urine and feces. Simba has used your entry hall as his litter box again. But before you lose your temper- stop. By scrutinizing the environment through your cat's eyes, you will likely discover the cause of his toileting mishaps.
Elimination issues are a main reason for veterinary visits and a primary reason for relinquishment of cats at shelters. House soiling problems can be multi-factorial, with an overlap of behavioral, environmental and medical causes. Feline house soiling can be managed however with sleuth work and patience. The challenge is to think like a cat.
First and foremost, say this and repeat it…"My cat does not eliminate out of the litter box to get even with me." Cats do use urine and fecal scent marks to communicate territory, but this isn't done with spite or in effort to "get even" with you. Inappropriate elimination is a cat's way stating that something isn't right in their world. Understanding this is key before tackling feline house soiling. Focus on what's wrong in Simba's toilet area, not on how the house soiling makes you feel.
Start with a Vet Check
Cat owners often struggle with house soiling mishaps for months or years before enlisting help from their veterinarian. But seeing the veterinarian should be the first step, since health disorders may be at the root of some house soiling issues. Your efforts in restoring litter box usage will be doomed if an underlying medical cause is not addressed at the same time.
Size does matter
Make sure your cat's litter box is of adequate size to allow maneuvering. Litter box size should be 1 ½ times the length of cat's body length. Height of the edge also matters. For older kitties, try lower profile litter boxes or plastic under bed storage boxes. An arthritic older cat won't complain or cry in pain with arthritis, she'll just chose to eliminate elsewhere.
Consider the view
Cats don't want to be startled while in the loo. Don't place the litter box in a high traffic area where people and pets are always a-coming and going. Cats prefer a low traffic area where they can have an eye out on things.
Don't place the litter box near appliances which give off noise, vibration and heat, all which disturb your cat while eliminating. Once a negative aversion is created, your cat may not return to use that box in the future.
Ditch the litter box cover. While some nervous kitties prefer the privacy of litter box covers, the majority of cats dislike the tight quarters and limited ventilation litter box covers provide. Consider how you feel in a public porta-potty… do you like to touch the walls when inside? Sure, people like the way the lid contains odors, but does it really matter how little odor comes from the litter box when your cat is pooping on your oriental rug?
Provide more than one box
A common error is assuming that one litter box is all your cat needs. What cat owner loves the litter box, and relishes seeing more of them in the home? But the more the better when it comes to faithful litter box usage, especially with multiple cats. The general rule is to provide one more box than the number of cats. Some cats share litter boxes, others will not. Unless you provide alternate sites you may have elimination issues in multiple cat homes.
Another special consideration is differences in cat's personalities- timid cats may avoid crossing paths with other more assertive pets in home. Be sure to provide litter box sites that won't be blocked by other animal's movements.
If you live in a multilevel home- you must provide litter box sites on each level. This is especially important in multi-cat homes, those with senior cats or those with health conditions.
The pick of litters
Litter texture preferences vary and there are many choices from scoopable, clay, crystals, or natural litters. However in one research study of cat's litter box habits, it demonstrated that the majority of cats prefer fine grained scoopable clay based litters that have carbon as their odor absorbing ingredient. Every cat is different though, so try other litter varieties until you find your cat's preference.
Skip the scents. The verdict is still out on what odors cats prefer, but avoid heavily scented litters or deodorizers if your cat is missing the box. Interestingly enough, one study showed cats preferred cedar and fish odors, while avoiding citrus and floral scents, while another study concluded cats preferred fish or bleach smells to other scents.
Ideal litter depth is 2 inches- more isn't always better. Some cats thrive on scratching the bottom of the pan, which is obscured by excessive amounts of litter.
Keep it clean
Cats are fastidious by nature and will avoid using a soiled or smelly box. The overall cleaning frequency depends on the number of cats in the home. General advice is to scoop twice a day and deep clean the litter pan weekly. Change out clumping litter every 2-3 weeks.
Build it and kitty will use it
By building your cat's dream litter box, your cat will find litter box nirvana. And you'll come to enjoy a better relationship with your kitty family members without those unwanted "presents" in the foyer.
Need more help managing those frustrating litter box "Oops"? Look for my next blog on how to deter the return offender to the site, and how to draw kitty to the right spot.