A frightening situation occurred the other day at my veterinary hospital.  Working inside my office, I could hear a woman's shrieks coming from the parking lot. I ran outside to find a woman with one dog on a leash, and the other dog skittering about the parking lot- the result of a slipped collar. The owner would approach the panicked dog and he'd retreat, darting under nearby cars. Those familiar with our hospital location understand its proximity to a busy intersection. Should the dog run in the wrong direction, he'd meet up with 45 mph traffic.
My staff was outside in moments to assist the owner in retrieving her dog and safely escorted everyone into the building. Thankfully my client's few minutes of terror ended uneventfully. But that's not always the case. I've seen dogs run straight into the road, cat's leap from a family member's arms, and owners dive into oncoming traffic trying to catch an escaping pet.
The lesson is simple. Don't underestimate your pets' fears. Fear of car travel, new places or the veterinary office can cause a pet to behave in unpredictable ways. If you know your pet to be nervous with new people or new situations, be especially vigilant when transporting your pet in a vehicle.
Identify your pet
Use two methods of identification for best insurance your pet is returned to you if lost. Permanent identification with a microchip is a must, and should be complimented with a collar and ID tags.
Restrain pet in vehicle
Keep your pet secure during travel and when the car door opens by using a doggie seatbelt. Small dogs and cats should be housed in a pet carrier which is secured with seatbelt to avoid undue carrier movement during travel. Do not allow cats and small pets to roam freely in the car. Cats have been known to take cover under car seats which may require sedation or seat removal to extract kitty from her hiding place.
Check for proper fit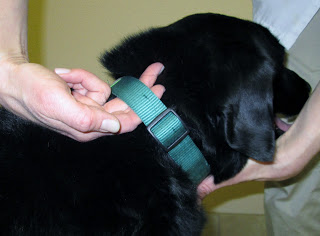 A proper fitting collar allows 2 finger widths between the collar and pet's neck. (See above picture) Allow more than, and should your pet put on the brakes, he'll easily slip out of the collar.  (example below)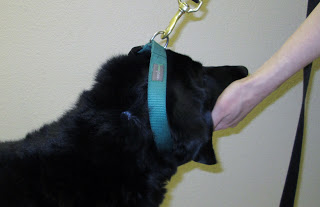 Poor fitting harnesses are just as dangerous and allow gap room which allows a back-peddling pet to wiggle out. (see below) Not sure if the collar is too loose? Snug the collar up one fitting in anticipation of your trip to the vet.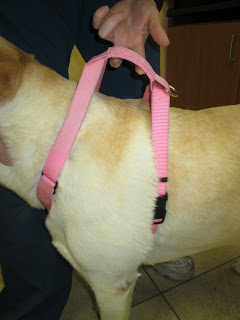 Try other collar styles
Even if you don't normally use a choker or pinch collar, consider using one when going to the vet's office. For thick necked dogs with smaller head size, try the Martingale collar, a fabric and metal combo collar that snugs down should your dog try to back out. Boisterous dogs that jump and leap when on leash may benefit wearing a head collar that fits over the muzzle. Ensure your collar choice is properly fitted, since any of these styles can fail if improperly fitted or used incorrectly.
Call ahead
If you anticipate difficulties getting your pet to the vet's office, call ahead. Veterinary staff members are on the ready to help ensure your pet's visit is a safe one.
So, take a few minutes to consider your pet's travel safety before heading out on that next car trip, whether it is to the park, groomer, or veterinary office. Your four legged friend will thank you, but may pout on the way there.