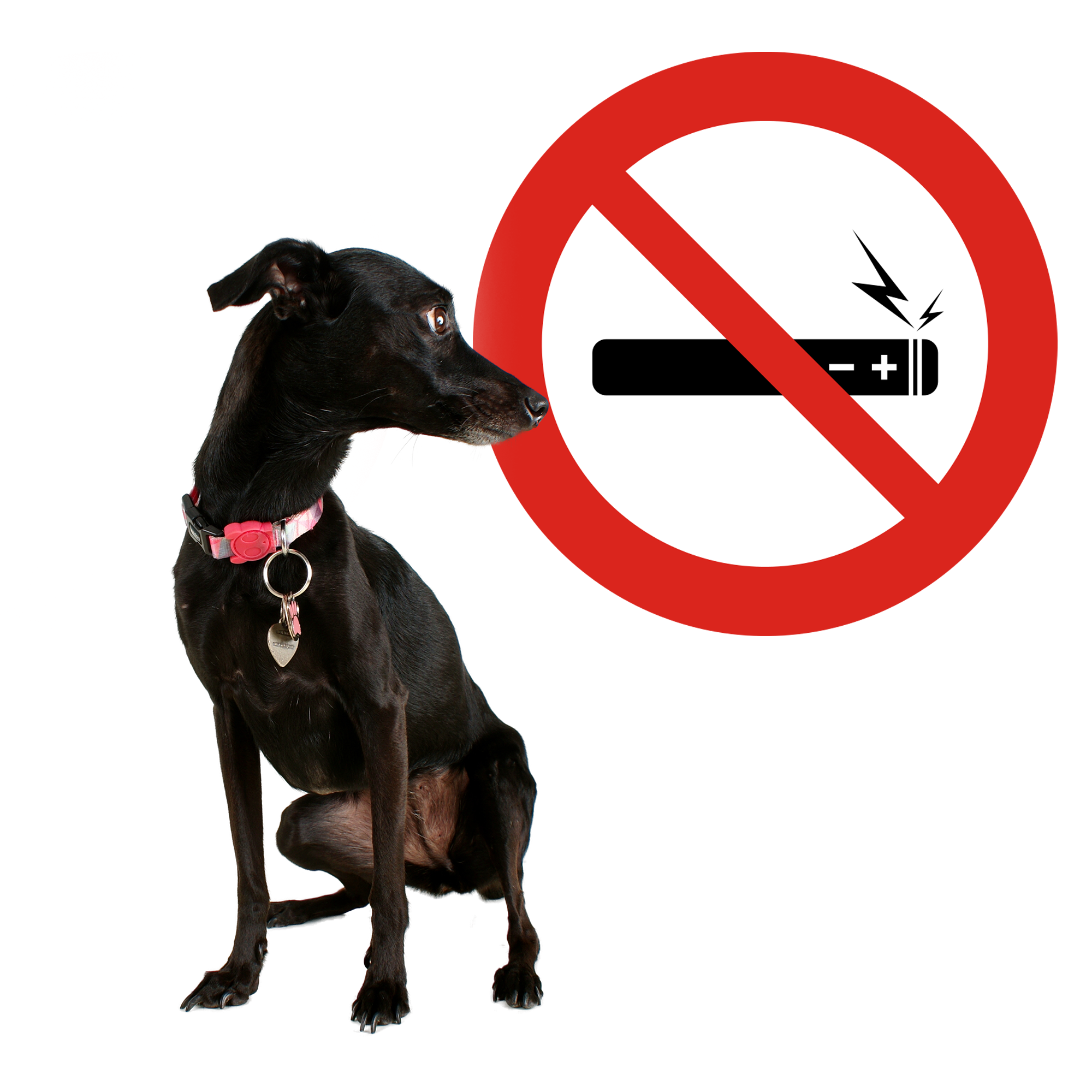 Think that vapor cigarettes (a.k.a. electric cigarettes or e-cigarettes) are a healthier alternative to traditional cigarettes? The vapor habit might be better for you and decrease your pet's exposure to second hand smoke, but can increase the chance of a pet's toxic ingestion of nicotine.  A recent story from England told of the tragic death of a puppy that died after chewing on an e- liquid container.
Ivy was a 14 week on Staffordshire Bull Terrier that chewed on her owner's bottle of e-liquid used to refill the electric cigarettes. Within 30 seconds of nibbling on the container, she fell sick with vomiting and disorientation and was rushed to a veterinary office. Sadly Ivy died within 24 hours due to heart and respiratory failure.
What's in e-liquid?
The ingredients in e-liquid vary but include carriers such as propylene glycol, polyethylene Glycol 400 and vegetable glycerin, as well as flavoring agents and nicotine. The amount of nicotine in e-liquid varies with some products not containing any nicotine, to others ranging from  18 mg/ml to 100mg/ml.
How toxic is nicotine?
The toxic dose of nicotine for pets is 0.5 to 1mg per pound of body weight. The fatal dose is 4mg per pound. So if you consider a 20 pound dog, toxicity would occur if 10mg were ingested, and the pet would die if 80mg were ingested. Therefore with the high nicotine levels in e-liquid, it wont take much to reach those fatal levels. That hypothetical 20 pound dog could die from less than 1ml of the highest potency liquid nicotine.
Pets likewise can develop toxicity if other sources of nicotine are ingested such as cigarettes, chewing tobacco, nicotine gum, or nicotine nasal sprays. The typical amounts of nicotine in these products are:
Cigarette                             9-30 mg
Nicotine gum                     2 – 4 mg per piece
Nicotine patches               8.3 – 114 mg
Even cigarette butts can be toxic if enough are ingested- cigarette butts retain 25% of the nicotine in the original cigarette.
What are symptoms of nicotine poisoning?
Symptoms usually develop within one hour of ingestion. Pets may display excitability, rapid heart rate, drooling, vomiting, diarrhea, weakness, seizures, and coma.
How are pets treated for nicotine toxicity?
The first step is to decontaminate by inducing vomiting. Nicotine typically causes vomiting when ingested, but further decontamination is advised at the veterinary office. Other emergency care includes intravenous fluids, medications to manage elevated blood pressure and heart rate, and anti-seizure medications. Nicotine is metabolized by the liver and excreted within 16 hours after ingestion. Pets that survive the initial four hours after ingestion have a favorable chance of survival.
The vapor cigarette trend is becoming more popular world wide. It's important to recognize that nicotine is a toxin and poisonous to animals and children. Consider the e-liquid a hazardous material and store it safely in a locking cabinet, away from children and pets.
To read more about Ivy's toxicity after ingesting E-fluid:  Dog dies after chewing e-fluid container