Can you give your dog the flu, or catch it from him? No way. But dogs can become infected with their own strain of canine influenza. With much attention on the tough human flu season, it's a good time to talk about the differences, and similarities, between human and canine influenza.
What is Dog Flu?
Canine Influenza, also known as H3N8, is a relatively new dog virus identified in 2004.The disease mutated from a strain of the equine influenza virus and was first detected in racing greyhounds. Canine influenza has migrated across the country and infections have been detected in 39 states, with heavy reports in recent years in New York, New Jersey, Florida and Colorado. However, some areas of the country have yet to report a single case of canine influenza.
Although the human flu peaks in winter seasons, canine influenza doesn't show seasonality, rather dogs can acquire canine influenza all year round.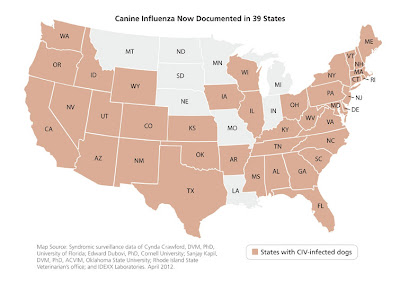 The Illness
A dog sick with canine influenza develops respiratory infection signs similar to kennel cough that last three to four weeks. Symptoms include coughing, gagging, sneezing, runny nose, and high fevers up to 104-106 degrees. (Normal dog temperature ranges 101-102 degrees Fahrenheit)
Most dogs infected with canine influenza will get sick and recover. But like the human flu, fatalities can occur. Approximately 5% of canine influenza infected dogs may die, usually to secondary pneumonia. Older pets, pups, or those with chronic illness are more likely to develop pneumonia than the average healthy dog.
There isn't a specific treatment for dogs infected with canine influenza, but most dogs recover with supportive care including good nutrition, rest and maintaining adequate hydration. Severely ill pets with secondary bacterial pneumonia may be hospitalized and treated with IV fluids and antibiotics.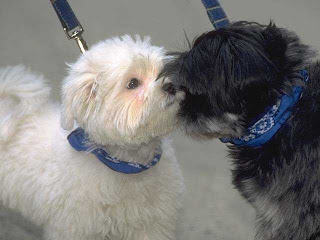 Dog Flu Transmission
Dog flu is similar to human flu in that it is spread by aerosol transmission as well as through contact with contaminated items. Since dogs don't cover their cough or sneezes, the virus is easily carried through respiratory droplets to other dogs and items in the immediate area. Any place that canines frequent or spend time around can become contaminated by infected dogs – that includes water bowls, surfaces and even human hands.
What do you do if you notice your dog's play pal is coughing, sneezing and has a runny nose? Separate your dog immediately and closely monitor your dog for symptoms for 7 days- the time it takes for symptoms to appear after exposure to the virus. If symptoms develop, call your veterinarian.
Past that timeline and you are probably fine. But don't forget that 10 to 20% of infected dogs will shed the virus, but never show any symptoms of illness. These apparently healthy carriers can go on and spread the infection to other dogs without every becoming ill.
Vaccination and Prevention Steps
A vaccine, produced by Merck, is available through veterinarians for canine influenza. But just like the human flu vaccine, it doesn't guarantee your dog CAN'T get sick. However the vaccine is helpful in decreasing the severity of infection and decreasing the spread of virus.
Vaccination for canine influenza isn't recommended for every dog at this time. Lifestyle and geographic location influence an individual dog's risk of acquiring canine influenza. Dogs that frequent high density dog areas are at increased risk of canine influenza and are candidates for vaccination. So if your dog goes to areas like the dog park, trainer, groomer or boarding facility, then ask your veterinarian if vaccination is a good idea.
Don't think you have to keep your dog locked in the house forever to hide from canine influenza. For most dogs, the risk of contracting canine influenza is quite small. Good sense preventative steps are useful to avoid dog illness. These include quarantining new or sick dogs, using good hygiene through disinfection and hand washing, and avoiding unnecessary contact with suspected infected dogs, especially if your dog is young, old, or has a compromised immune system.
What Should Pet Owners Do?
Flu awareness and preparedness makes good sense- for both people and pets. But remember that there are other causes of canine respiratory disease, so just because you hear a cough doesn't mean your dog has the flu. Ask your veterinarian about your pets individualized risks for acquiring canine influenza.
For more information about canine influenza visit the CDC website http://www.cdc.gov/flu/canine/ or Merk's website http://www.doginfluenza.com/