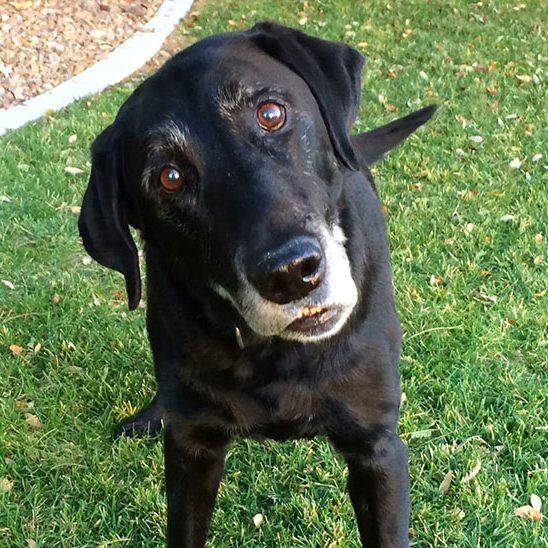 New Year's Day arrived with the crashing paw steps of my 12 year old Labrador, Magnum as he flopped and tumbled in a nervous frenzy. With head crooked to the right, Magnum's dizzy, wobbly movements resembled a carnival lover's exit from the tilt-a-whirl ride. His eyes darted back in forth in an uncontrollable movement. Many might assume Magnum suffered a stroke, and figured it was time to put the old guy to sleep. But fortunately there was hope-Magnum developed a typical case of  Idiopathic Vestibular Disease.
What is Idiopathic Vestibular Disease?
Idiopathic Vestibular Disease, also known as Old Dog Vestibular Disease, is a condition commonly diagnosed in senior dogs, but also seen in cats. The term idiopathic basically means the cause is unknown. This condition affects the vestibular system and the pet's sense of balance, typically with a rapid onset of symptoms. In Magnum's case he literally was fine at the start of a television program, and was wobbly just one hour later.
Symptoms of Old Dog Vestibular Syndrome include a wobbly gait, head tilt, anxiety, panting, and an abnormal eye movement called nystagmus, a condition in which the eyes dart rapidly back-and-forth or up-and-down. In addition to mobility problems, the topsy-turvy sensation leads to nausea, vomiting, and an inability to eat or drink. Thankfully my sturdy stomached Labrador barely missed a meal during his bout.
The cause of idiopathic vestibular vestibular syndrome isn't completely known, but fortunately most dogs recovery from symptoms within 2 to 4 weeks. In some cases dogs may suffer from future bouts months to years later. Some dogs may retain a slight head tilt or unsteadiness at times.
What Can Be Done?
A veterinary examination is important to identify suspected cases of vestibular disease. Other possible causes of these symptoms could include an infectious or inflammatory condition, inner ear infection, cancer, or a brain vascular episode- a stroke-like episode. In order to rule out these potential causes, more detailed testing is needed and may include tests like a CT, MRI, and CSF tap.
There isn't a cure for a vestibular episode, and some pets recover without any treatment. But other animals require supportive care including anti-nausea medications, intravenous fluid therapy, hand feeding, and physical assistance to walk and protect from household hazards.
Caring for a frightened, disoriented, wobbly, nauseated dog can be difficult. My 80 pound Labrador needed physical support to get up, walk outside and required hand feeding at times. He couldn't be left home alone without risk of injury. And because of all the hoisting, blocking collisions with furniture, and guiding away from the depths of the pool, I injured my back during his rehab time. The reality is that home care of a small or toy breed with vestibular disease is much easier than the physical demands of a assisting a large or giant breed dog.
Lessons Learned
I have seen many a patient come to my veterinary office for euthanasia after developing similar vestibular symptoms. Some pet owners assume that the severe symptoms and rapid onset mean that there is no hope and euthanasia is the only choice. I'll admit that vestibular symptoms are scary and affected pets are tough to care for at home, but if given the tincture of time, many senior dogs will eventually improve.  Perhaps Magnum's story will help other pet owner's opt to pursue treatment or testing, and give time a chance to heal.
Four weeks later and Magnum is back to playing with toys and energetically bounding on walks. He still retains a slight head tilt to the right, his badge of courage as I see it. I'm thankful for his recovery and adore his charming, loveable tilted perspective of the world.