Looking to save money on veterinary care or wondering how to keep your pet in peak health? If you are a smoker and have pets, there are some very compelling reasons to quit- second hand smoking's link to causing cancer and illness in pets. If threats from your spouse haven't gotten you to stop smoking yet, maybe looking at that furry friend on the couch next to you will. The life you save may be his.
It's long been known that smoking causes serious health repercussion in people, even to non-smokers in the same environment. According to the CDC, secondhand smoke contains 7000 different toxins, hundreds which are toxic and 70 which cancer-causing.
In people, secondhand smoke is linked to cardiovascular disease, lung cancer and childhood asthma, ear infections and sudden infant death syndrome (SIDS).  Similar research in pets has found that animals from smoking homes are at greater risk of chronic lung disease like asthma and bronchitis, respiratory cancers and other cancers.
Pets are exposed to smoke and chemicals not only through inhaling air, but also by ingesting the toxins directly. Smoke particulates settle on pet's fur or are transferred from the owner's hands through petting. Pets then ingest cigarette's toxins through licking humans, self-grooming, and grooming other household pets. Cat's especially fastidious nature permits increased intake of smoke residues through kitty grooming behaviors.
What are secondhand smoke effects in pets?
Research from Tufts University discovered that cats exposed to smoking had a higher risk of developing the malignant cancer, lymphoma. In fact, cats living in smoking homes had double the risk of developing lymphoma as cats from non-smoking homes. When two people in the home smoked, the risk of lymphoma in cats increased to four times.
Other veterinary research identified increased rates of oral, nasal and lung cancer in pets from smoking households. Cats from a smoker's home are four times as likely to develop the disfiguring cancer, squamous cell carcinoma. And in yet another study, long snouted dog breeds from smoking homes were at greater risk of developing nasal cancer, likely due to greater absorption area in long nasal passages.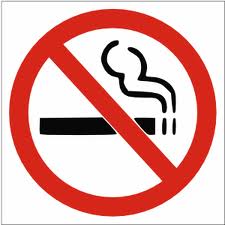 How can you safeguard your pet's health?
If you are a smoker, consider stopping- for your sake and your pets. Short of giving up the habit, take steps to minimize second hand smoke on your pets. Only smoke outdoors, away from pets. Wash your hands after smoking, before handling your pets. If you enjoy lighting up in the car when driving, leave your pet at home. Even with car windows down, cigarette smoke inside a car creates a toxic environment for pets.
Have your dog and cat examined by your veterinarian every six months. Alert your veterinarian to any lethargy, trouble breathing, coughing or unexplained weight loss. Early detection and treatment permits the most effective treatment of chronic respiratory conditions and cancers. Your pet's veterinarian can detect illness through regular exams and preventative screenings.
While smoking isn't the only factor causing cancer in pets, it is increasingly scrutinized as a significant health risk, one that we humans can control. The health decisions we make not only influence our children's health, but also affect those devoted pets that warm our hearts and beds.