"Oh, but it's a dry heat." We've all heard that comment, used to describe the desert Southwest climate, one which becomes especially taxing on Southwest U.S. residents during July and August. The desert may lack the added humidity concerns that much of the country knows, but when temperatures escalate above 100 degrees, you can't dismiss the dangers of that infamous dry heat.
The National Weather Service issued an excessive heat warning for southern Nevada, southeastern California and northwest Arizona from August 8th through the 10th. Temperatures are expected to soar to 111 in Las Vegas, to 118 in the Colorado River Valley, and reach an unbelievable 126 degrees in Death Valley. Oppressive temperatures will strain air conditioners and stress both humans and pets alike.
As the mercury rises, so too do the number of heat stroke cases veterinarians see. The basic reason why dogs succumb to heat stroke lies with their differing cooling mechanism. Humans sweat to dissipate heat, while dogs pant. When faced with high temperatures, high humidity, exercise or excitement, panting fails miserably at cooling dogs.
Pet owner should be observant for symptoms of heat stroke including excess panting, anxiety and thick ropy drool. As heat stroke progresses, dogs may exhibit vomiting, diarrhea, a dark to blue color of gums and collapse. Shock sets in as high temperatures damage the brain, respiratory system, kidneys, and digestive tract.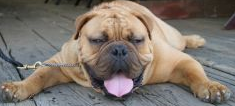 Be especially vigilant with at-risk dogs such as senior dogs, those with chronic illnesses and breeds like Pugs, Bulldogs and Boston terriers whose short face and upper airway conformation makes it more difficult cool off in high temperatures.
Here are the top 5 misconceptions about heat stroke in pets:
Heatstroke only occurs during peak daylight hours.
FALSE: Extreme temperatures continue to rise into the afternoon and remain a threat to pet even after dark. Dogs left outdoors in evening hours can still develop heat stroke long after the sun has set. For best safety keep pets indoors day and night during extreme heat. Limit exercise to early morning hours before sunrise, since evening temperatures are anticipated to remain high.
Dogs can't get heatstroke if they are left with access to pools or shade.
FALSE: Outdoor cooling resources like doggie pools, misters, shade and ice blocks may not be enough to prevent a fatal heat stroke event. Access to these cooling means does not guarantee protection. Keep pets indoors during dangerous heat.
Heat stroke can be treated at home without veterinary care.
FALSE: Heat stroke is a life threatening emergency which requires appropriate intravenous and emergency veterinary care. Prompt veterinary care is important and delayed home care efforts can jeopardize survival. Plunging a pet into very cold water or ice baths will worsen a pet's odds of surviving heat stroke. Intense cold and ice causes capillaries to constrict, trapping heat in the body core and prolonging dangerous heats effects on the vital organs in the body.
Only dogs get heatstroke.
FALSE: Cats are less prone to heat stroke because they aren't as physically active, but elderly or chronically ill cats are less apt to recover from heat's effects. Rabbits and chinchillas are very sensitive to high temperatures, succumbing to heat stroke easily with temperatures just above 80 degrees. Caged pets like rabbits, ferrets, birds and chinchillas suffer heat stroke deaths when left home during family vacation and power outages shuts off air conditioning. Have a pet sitter check on any pets once or twice daily during summer months.
It's okay to leave dogs in cars as long as you open windows wide, not just crack the windows.
FALSE: Never leave a dog unattended in a car during summer. Even if windows are fully open, the hot vehicle environment with little air circulation becomes a death trap for dogs. Even a few minutes in a hot car can prove dangerous.
Every second counts when a dog is faced with heat stroke. See a veterinarian immediately with any concerns of heat related illness and be especially cautious during the upcoming heat. Look out for your furry friend and keep him safe in the coming heat wave.